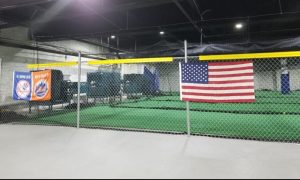 Token Machine Batting Cage Walk In Hours June 2021 :
Weekdays 2pm-7pm Mon- Fri (Last Bat at 6:30pm) Sat & Sun 10am-2pm (Last Bat at 1:30pm)
Summer Batting Cage Walk In Hours from June 28th -Aug 28th-: Mon-Fri 11am-4pm ( Last bat 3:30pm) Sat- 10am-2pm ( Last bat 1:30pm) Sun- Closed
Cage Rentals for Practice for up to 4ppl or more are by appointment only.
Please call to reserve and pre-pay for your cage1 day in advance .
All Clients must sign our online Facility Waiver before entry.
All clients must wear a mask and will use hand sanitizer and be temperature checked upon entry.
*No Spectators or small children allowed in Batting Cage area. Spectators, Parents and siblings not using cages or whom are not registered in a class must wait in lobby area upstairs.
All Kids under 18 using the Batting Cages must have a waiver signed by their parent before they arrive, Parents, please sign facility waiver on our website.
We can't wait to see you again!!!
Our new email is: