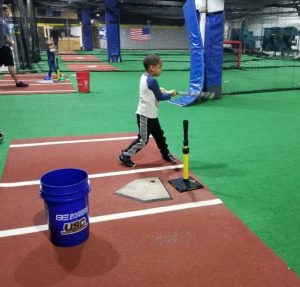 Learn the fundamentals of Baseball by our friendly experienced coaching staff.
Our Baseball Programs are designed to help teach and improve your child's skill's in all aspects of the game of baseball.
14 Week Classes $420 Plus $42 yearly registration fee
All classes run on an 8 or 14 week session
Trial Classes: $40.00
Fall Session Sept - Dec
Winter Session Dec - Mar
Pee Wee Sluggers 12 Week Session    $490 1x per week    $770 2x per week      $1050 3x per week
Ages 5-7yrs
Sat or Sun  9:00am-9:55am                Mon-Wed or Fri  4:00pm- 4:55pm
Ages 8-10 yrs

Sat or Sun  10:00am-10:55am           Mon-Wed or Fri  5:00pm- 5:55pm
Ages 11-14yrs

Sat or Sun  11:00am-11:55am           Mon-Wed or Fri  5:00pm- 5:55pm
Junior Sluggers 10 Week Winter Workout Session Tues or Thurs
Session  Dates : Tuesdays - December 7, 14, 21, Jan 4, 11, 18, 25, Feb 1, 8, 15      Thursdays: -Dec 9, 16, 23,  Jan6, 13, 20, 27  Feb 3, 10, 17
Ages 8-10 yrs Choose a day

Tuesdays or Thurs  4:00m-4:55pm
Ages 11-14 yrs
Tues or Thursdays   5:00pm - 5:55pm
This Class is designed for Intermediate-Advance Baseball Athletes who want to perfect their skills in hitting, fielding, throwing and base-running.
Senior Sluggers Spring Training 14 Week Session $420
Saturdays or Sundays 12:00pm - 12:55pm
Ages 14-17yrs
Saturdays or Sundays 1:00pm - 1:55pm
Ages 11-14yrs
Wednesdays 5:55pm-6:55pm