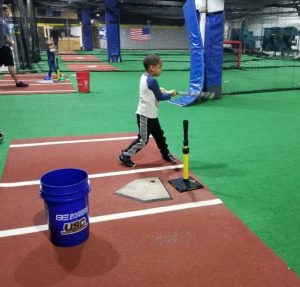 Please Note--------Due to COVID 19 Classes will be postponed until further notice.
Please check back when NYS enters Phase 4 for further class scheduling updates!
We can't wait to see you again!!!!!
Learn the fundamentals of Baseball by our friendly experienced coaching staff.
Our Baseball Programs are designed to help teach and improve your child's skill's in  all aspects of the game of baseball.
8 Week Classes  $300 14 Week Classes $420 Plus $42 yearly registration fee
All classes run on an 8 or 14 week session
Trial Classes: $40.00
Fall Session Sept - Dec
Winter Session Dec - Mar
Spring Session 8 weeks March21 -May9
Pee Wee Sluggers   8 Week Class $300
Ages 4-6yrs
Sat or Sun  10:00 am -10:55am
Ages 6-8yrs
Tuesdays or Thurs 4:00m-4:55pm
Junior Sluggers   8 Week Class $300
Ages 7-9yrs
Sat or Sun 11:00am - 11:55am
Ages 10-13yrs
Sat or Sun 12:00pm-12:55pm
Ages 6-8yrs
Tuesdays or Thurs 4:00m-4:55pm
Ages 9-13yrs
Tues or Thursdays 5:00pm - 5:55pm
Senior Sluggers Spring Training 8 Week Class $300
Spring Session March 21-May 9th
Ages 10-13yrs
Saturdays  or Sundays 12:00pm - 12:55pm
Ages 14-17yrs
Saturdays or Sundays 1:00pm - 1:55pm
Ages 11-14yrs
Wednesdays 5:55pm-6:55pm